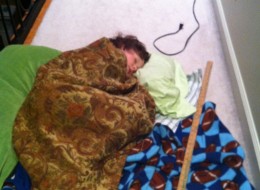 The first time Eli forgot his lunchbox I didn't realize it until it was almost too late. I got to school just as the second graders were marching towards a smell that, in my opinion, was anything but appetizing. Imagine a wave of relief sweeping over a face. My boy looked at me through tears. "She said I had to buy my lunch. And that I had to eat it."
I got that hen and her chick feeling, ready to peck away at the teacher who would be so mean as to tell my son he had to do anything, let alone eat that mess.
I never knew my son was quite so obedient!
It was a few months ago …