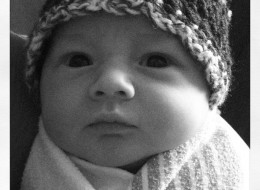 Warning: This blog, with faces all new and squishy, is going to make you want a baby. It made me want one…for all of about 23.7 seconds.
I can't think of a better way to share a Beautiful Thursday with you than to tell you about some people who have just come into the world.
I want to kiss those puffy cheeks and squeeze chunky baby toes as I marvel at the perfect creation given by the great Creator.
First, there's Arwyn. I think I know what the smile of God looks like just by glancing at this bundle of pure perfection. With beautiful black hair, her tiny body bundled up in pink, she captured me …