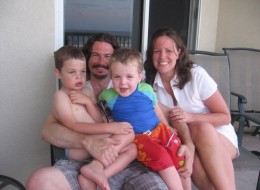 I remember chatting with Laura in an empty Sunday School room while we took care of babies who had no interest in big church. We pondered everything new moms ponder. And then some.
I consider Laura and her husband friends, although we don't socialize or see each other unless it's a random run-in. I've been watching her ups-and-downs on FaceBook though. Sadly I've never offered her support or said, "I"m praying for you" with a cute little heart, for fear that it would come across as trite. Again, I'm not that close to her. I need to work on that.
You don't have to share coffee and bagels to care about someone. Right?
The baby Laura rocked in her …