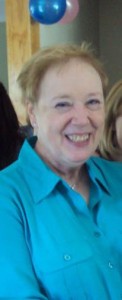 A friend of mine passed away suddenly yesterday. It doesn't make today feel very beautiful. But she sure was.
When Regi and I lived on Long Island between 1993 and 1996, she was my husband's assistant. This sums it up: she assisted anyone with anything they could ever possibly need. And somewhere between filing, arranging, phone calls, and ordering bagels, we became friends. Though many knew her better, I am honored to have known her like I did.
I remember when she invited us into her home and served us lunch at the massive dinner table with all those kids staring at us (seven in all). There was plenty of laughter that day, and every other day for that matter. My fondest memory has to be when she skipped church with me to go have Java's (our dog) picture taken with Santa Claus. She waited patiently in line with me for over an hour. I could talk to her about the people who got me down, and then ask her to pray for me. Simply put, she only knew one way: giving out of the kindness and generosity of a pure heart that never asked for anything in return.
Over the last few years, we talked very infrequently. But when we did, it was as though yesterday didn't exist. It was today again and there was only a parking lot separating us. We swore last year that we would make a trip to see each other, perhaps meeting in the middle somewhere, if only for a day. But life got busy, she was blessed by 23 (and counting) grandkids, and it never happened.
I am grateful to have seen how she loved the Lord with her whole being. She didn't have to tell anyone about her Christian experience because she lived it. By offering enduring encouragement, her beautiful laughter, and excessive amounts of love that poured from her servant's heart. She was one of the truest women of God I've ever known.
I spoke to her for the last time on March 29th. I know this because it was her birthday. Yet she sent me flowers to celebrate Beautiful Thursday. When the doorbell rang, I thought, "Ugh. I don't have time for this." However, sitting on the doorstep was a boquet of flowers straight from New York to Nashville. The words she wrote brought tears to my eyes because once again, all she knew to do was lift someone else up. Thoughtful. Concerned. Insiteful. True. A friend to so many.
When I started blogging, she made sure she read. Not only did she read, she commented without fail. Last night I took a minute to find all her comments and it was as though I could hear her whispering from the sidelines. Every word she penned felt like she was sharing a treasure. I am eternally grateful that I picked up the phone after the flowers arrived to thank her and share a laugh. I told her that I would have to do a Beautiful Thursday on her and her kindness to which she heartily said, "Don't you dare!" And laughed. (Can you tell that was what she was known for?)
Today is the first Beautiful Thursday of eternity that Kit gets to sit at the feet of her beautiful Savior. The One who put the laughter into her heart. The One who taught her how to serve. The One who used her to touch the world around her. And while there are many things I could regret, like not making a trip to see her, I choose to not lament the sorrow. She would not take any joy from that. I will give thanks for who she was. That her journey is over. And that I knew her for such a short time compared to the forever that we will one day spend together.
In her memory, please take this Beautiful Thursday and remind someone how special they are. Don't be afraid to lavish your compliments on someone a dozen states away. Plan a trip with someone, even if it doesn't happen. Send flowers to the person who crosses your mind, for absolutely no reason. You will leave a mark that will never be forgotten.
And above all, laugh. Give life all you've got. Pass on to your kids, your grandkids. Leave it in your chair so that it embraces the next person who takes your place.
The last comment Kit made to me was from May 11th  about being a mom, something she did well. There is great meaning in her words we would all do well to remember:
Embrace the moments, which will quickly turn into years, and you will see before you, standing tall, the adults you poured your life and soul, heart and prayers into.
We stand tall because we knew her. We will never forget the beautiful, witty, Godly, kind and generous person she was. Katherine Farrell, we will always treasure the beautiful gift  you've been to us.
Please remember to pray for peace that passes all understanding as her husband, children, their spouses, her grandkids, and the rest of her family face the days ahead.