Beautiful Thursday…my mantra. But what do I write when I haven't felt the beauty of the emerging Spring or wanted to do anything but stare at the ceiling to try and find some hidden meaning in the blahs?
Thankfully I have a thought that has been playing like a tape stuck on repeat. Speak To Her. And that's where I'm headed on this Beautiful Thursday.
I've spent a lot of extra time with my daughter these last two weeks. We left the boys home and drove to Florida for Spring Break (we've never done that before). Upon returning, and because of the boys going out of town, I've driven Sophie to school every morning which I don't typically do. Our family spends tons of time together, but I sure enjoy the moments when it's just her and I on the 30 minute drive to school.
We turn the radio up, laugh, toast our day with coffee and tea, talk about school, friends, Twitter, church…you name it. It's quite interesting to hear her stories.
And then she tells me what some girls say and think about themselves and it saddens me. She doesn't see it, but as a parent I can look from the outside and see boys hurting our girls, girls hurting each other, and girls not liking themselves. They are trying to find ways to be beautiful.
So how can I use this Beautiful Thursday to make my point about our daughters?
By telling you to…
Speak to her.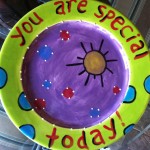 Encourage her. Let her eat from the You Are Special Today plate because she did well on a silly project.
Know her heart. Ask her what her dreams are and don't make light of them. They may sound silly to you but let her dream. Encourage her that God has a course for her life and He knows her heart and can help her do powerful things.
Face it…she is not going to do what YOU want her to; she has dreams of her own and she needs your support as she grows into those dreams.
Know where she is headed and follow her. Be her safety net, help her navigate, but let her chart her course. If you don't follow her because her interests don't interest you, she will search until she finds someone willing to follow her.
I don't mean follow her around and make her decisions. I mean allow her to step out on her own in the proper circumstances and just follow where her heart leads. If you don't, there are a hundred other people more popular than you, wealthier than you, younger than you, and who have platinum records that will beckon her to follow them.
And she will because you will be in some other place trying to lay the ground work for what YOU want her to do. She is not you. She is herself and that in itself is beautiful.
Face it. Many influences define beauty for our girls today but none can challenge the impact your simple words will have on her. Tell her she is beautiful.
She needs to hear this from her dad. Her mom.
And…
Speak to her with affirming words—
No matter if her shorts are shorter than you'd like
No matter how many piercings she has or wants
No matter if what she said (or didn't say) doesn't meet up to your standards or expectations
No matter if she is sloppy or neat
If she bites her nails
If she is top of her class or failing Chemistry…
Speak to her with affirming words. "You can do it." "I believe in you." "You are strong, you are a fighter."
That would be a good place to start.
She is your daughter. And no matter her age, whether she lives with you or alone, whether she needs you or not, whether she married the man you hoped for, or whether she lives in a mansion or trailer…
She is beautiful.
Speak to her. Write it in a letter. Post it on her wall. Tape it to her mirror. Put your phone down and cancel your next meeting to be with her.
I guess you could tell her next week or on her next birthday. Or when it's too late.
But I think that because it's Beautiful Thursday this would be the perfect day to… Speak To Her and say…   "You are beautiful."