Today I am starting something new. Maybe it will trend. Oh, yeah that's it; you've got to use the right language if you want anything to catch on now.
Whatever. (No, make that Whatevs. That's how Sophie would say it.)
I recently stalked looked at one of my friend's albums on FB. I was so surprised by one pic that I immediately private messaged her with, "There are few women in the world that can show up * , but you did by 1,000000000,0000000 degrees. I just needed to tell you once again how absolutely beautiful you are!!"
[* She was standing next to a well-known person but all names have been removed to protect the person who didn't know she was going to get her picture taken that day]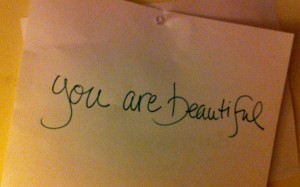 I knew she wouldn't say, "Oh, thank you. That is so sweet," in case it bordered on prideful. But I promise you, she could have. She should have. She's one of those drop dead gorgeous women who has all the right attributes and always looks amazing. I've seen her give out of the abundance of her heart, and help people around her. There is so much about her that is beyond wonderful, but I admit my compliment was aimed solely on how great she looked.
That is why her response affected me so deeply.
At first she said, "I don't even know how to respond to such a compliment. I will humbly accept it and thank you so much. It means a lot to me…"
The she wrote, "Unfortunately my confidence has kind of dwindled over these last few years. It's my fault for letting people, who could really care less about me, have that power. I am slowly getting it back, with strength from the Lord. My husband is very complimentary and very loving and affectionate. As long as the Lord and he are happy with me the way I am then that's all that should matter."
As I lay in bed that night, her comments played over in my head. How could she, a confident and strong woman, feel as low as it sounded? Don't beautiful people know they are just that?! I'll tell you why it was difficult for her. Because words are powerful. And she has lived in the midst of angry words for many years.
Words break, and they build. They are rainbows, and they are tornadoes.
Words can bring a person to their knees, and render them useless. Incorrectly used, they crush the spirit of the strong. Used properly, they inspire people to their fullest.
We must use our words wisely. We must find more ways to raise people up. Certainly you know the good, and bad, that words can do to us.
Compliments have caused me to do silly things like turn the music up as loud as I can in my car and dance so that people who pass can see.  They have caused me to sing at the top of my lungs in my house. I even talk faster. Why? Because I feel good. I look at the sky differently and have a new appreciation for the warm air as it brushes against my bare leg…and those are things I don't when I'm feeling stepped on. All because I'm confident. All because I feel loved. And because someone chose to speak words of life to me. And I'm realizing I don't use my words to build people up enough either.
So I am calling today Beautiful Thursday. I want to use my voice, this space, to encourage each of us together to find someone and tell them they are beautiful.
Will you do that today?
If you're feeling a bit freaked out, let me help you. Here are a few pointers. Repeat after me:
You are a beautiful person, inside and out! (Very over used, but oh so powerful because beauty is much more than what we see at face value.)
You have the most wonderful smile. It makes me happy whenever I see it. (You can take it one step further and actually find something a person that is beautiful. Maybe replace it with "your eyes" or "your hair" or "your shoes." Come on, you can do it. You can find something about every one you come in contact with that is beautiful and needs to be told. Even strangers!)
I am grateful to have you in my life. You are a beautiful friend. (There's something about the words "grateful" that causes me to pause. I don't use that word lightly. Neither should you. This way, when you do tell that to someone, they know how much you mean it.)
I love you. (A classic that needs no explaining.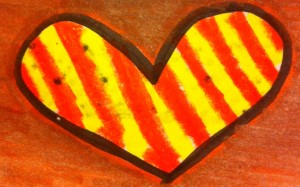 It's Beautiful Thursday. Now go and find someone and tell them just how beautiful they are!