I've been excited this entire week because of today's blog. It's Thursday and someone needs to know they're beautiful.
As for me, I had big plans to WOW you with my abilities this week. First I considered the sweet lady who sells The Contributer (a local newspaper that gives homeless and formerly homeless people a source of income) and who I pass often. I was going to buy some extra newspapers and then tell her how beautiful she is. Unfortunately she hasn't been at the intersection of I-65 and Harding all week so that idea tanked.
The next best thing? A nursing home. I wanted to drop in, stick some flowers into the hands of someone who hadn't had any visitors lately, and capture a "Beautiful Thursday" picture that would both inspire and encourage you; and make me look really thoughtful. Seems they don't want you to pop in unnannounced unless you're visiting a certain patient without approval, background checks, yada yada. Understood.
I decided to change my way of thinking (take the ME out of it…hello?). I looked in my own backyard, so to speak, and asked my sister to meet for lunch.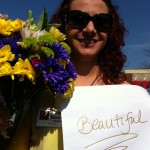 She's a single mom who works hard to make  it with the help of a child support check that automatically shows up in her bank account. (It's odd how the child-support-check-sender doesn't do anything else.) Don't get me started.
Now take the stick out of your eye if you are thinking, "She got herself into this mess, let her dig her way out." I can certainly attest to how tough it is being a parent with a spouse to step in when I've reached my limit. Now imagine doing it on your own. Trust me, she needs someone to say, "You are beautiful."
Reaching out to my sister made me realize this: it's easy to overlook the ones right in front of us for the sake of the stranger on the corner when the fact is they both need to be told they are beautiful. It's a tight rope and we are wearing the wrong shoes much of the time, but we must do what we can.
Remember, people don't need to be preached to; they just need to hear something they haven't heard in a long time.
Maybe there's a single mom in your office or your neighborhood. She may need a boost, even though it looks like she has it all together. Take her a cup of coffee or invite her over for one. Then take a minute to recognize all the work she does, much of it all on her own, by using the words we discussed in my first Beautiful Thursday blog! There may not be anyone else in her life that tells her that. Maybe even allow her to experience the joy of flowers sitting on her desk or kitchen table for a change. (They will put you out, what? Six or seven dollars? You can't afford NOT to do it.)
It's Thursday. There's beauty all around us. Now go…share Beautiful Thursday with someone!